The Crane series of 3D printers represent a new foundation for manufacturing that is both affordable and reliable while offering some of the latest innovations, such as the Duet3D electronics and QuadFusion print head, which will help to unlock some of the inevitable potential of 3D printing.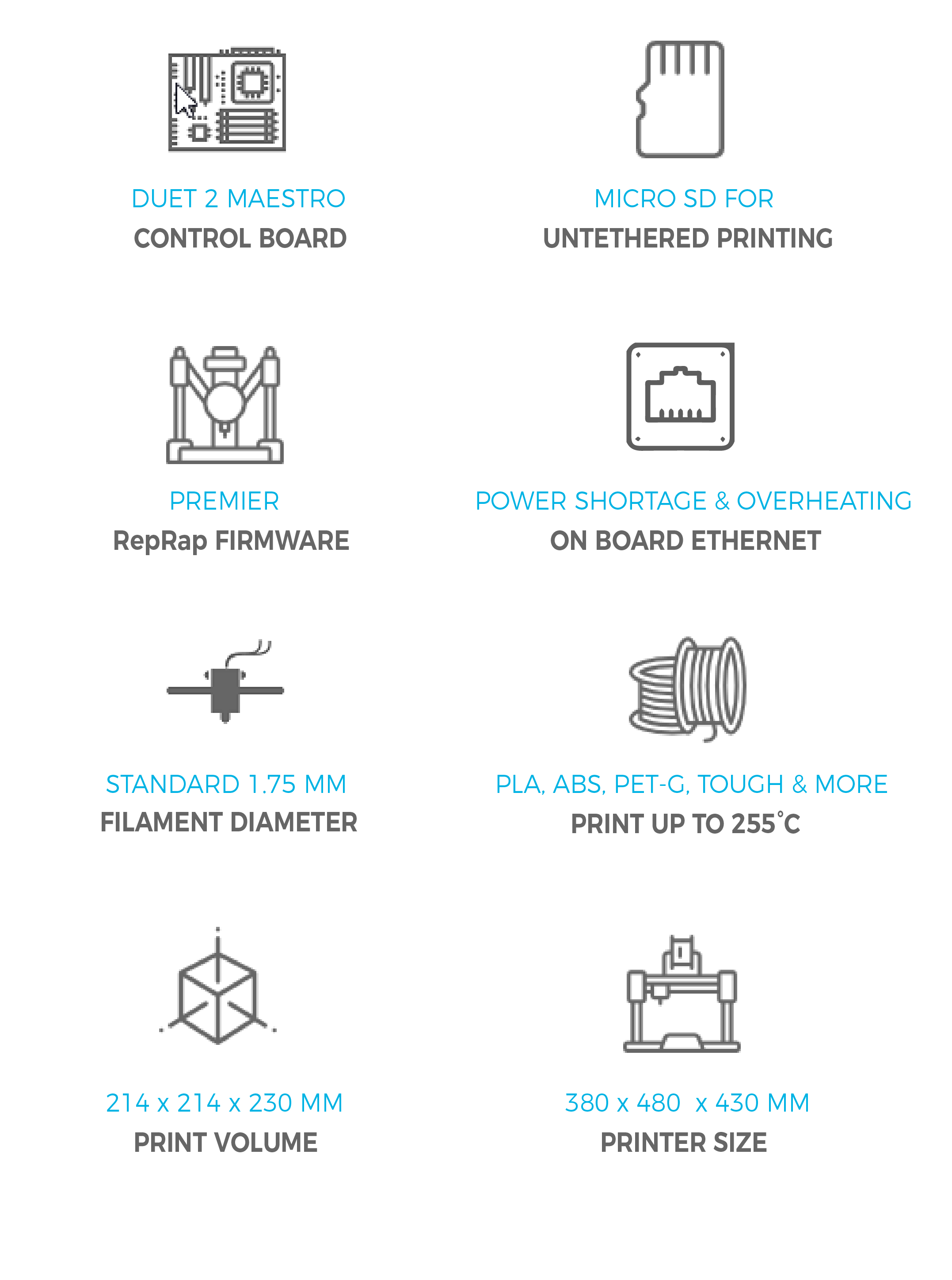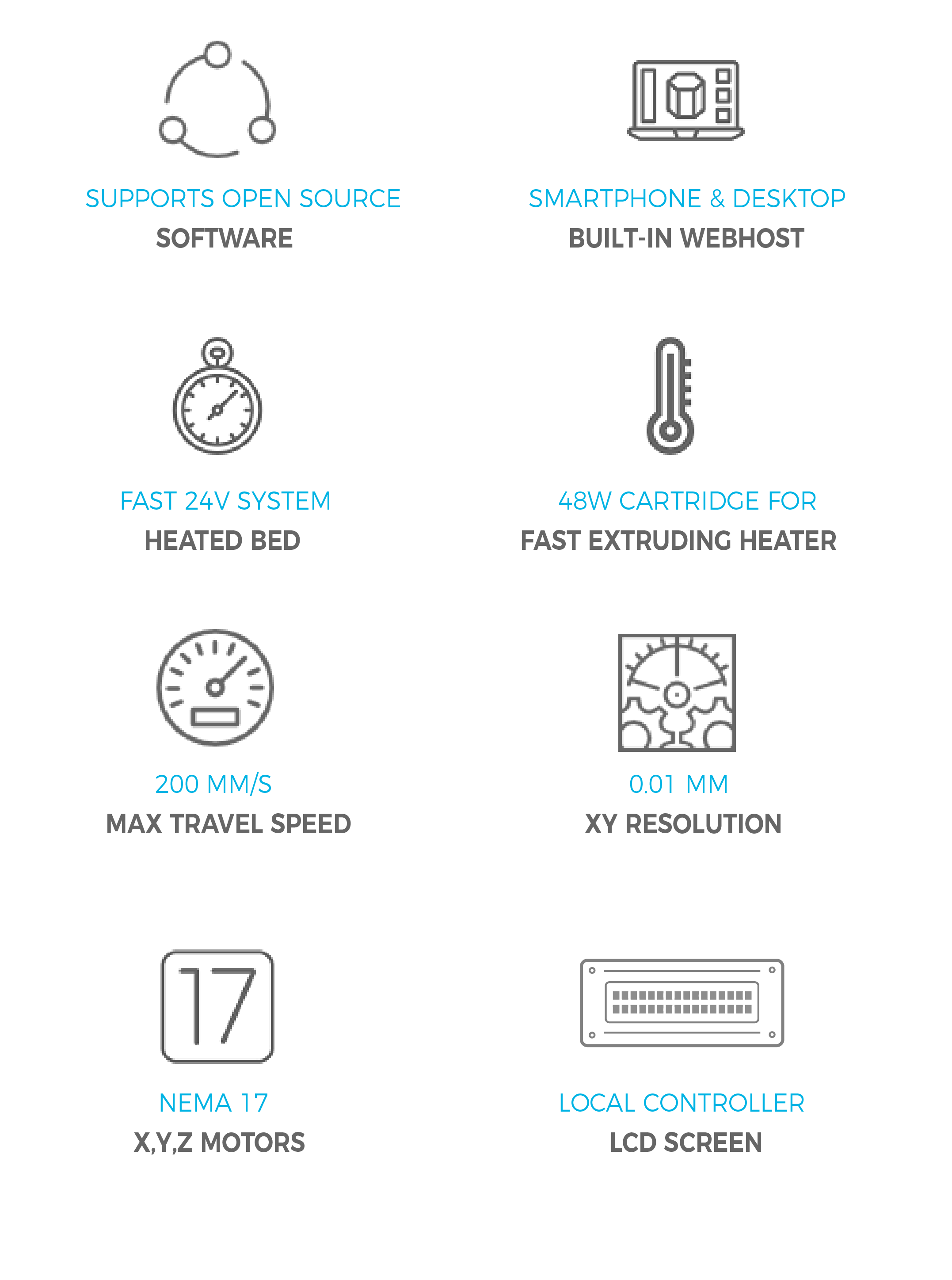 Every Crane includes the highly versatile electronics board Duet 2 Maestro, which was officially developed by the Duet3D team and financially supported by M3D. The Duet runs on the established RepRap firmware which is a completely open source code base. The Crane also leverages industry standard components and designs which are affordable, proven and robust. However, M3D makes the difference by integrating these components with the Duet board, and quality control as they are assembled in the USA. The end result is an affordable base 3D printer with unprecedented potential, leading to three options available, each with improved features enabling more complex prints: The Crane Series of 3D Printers.
THE CRANE QUAD IS BRINGING COLOR 3D PRINTING TO THE CONSUMER MARKET
The Crane Quad will allow you to simultaneously print with four different materials or color filaments. Within one print, you now have the option to mix or individually extrude with up to four individual filament types or colors. We're extremely proud to launch the only consumer 3D printer capable of printing over 50,000 colors to the consumer market with the Crane Quad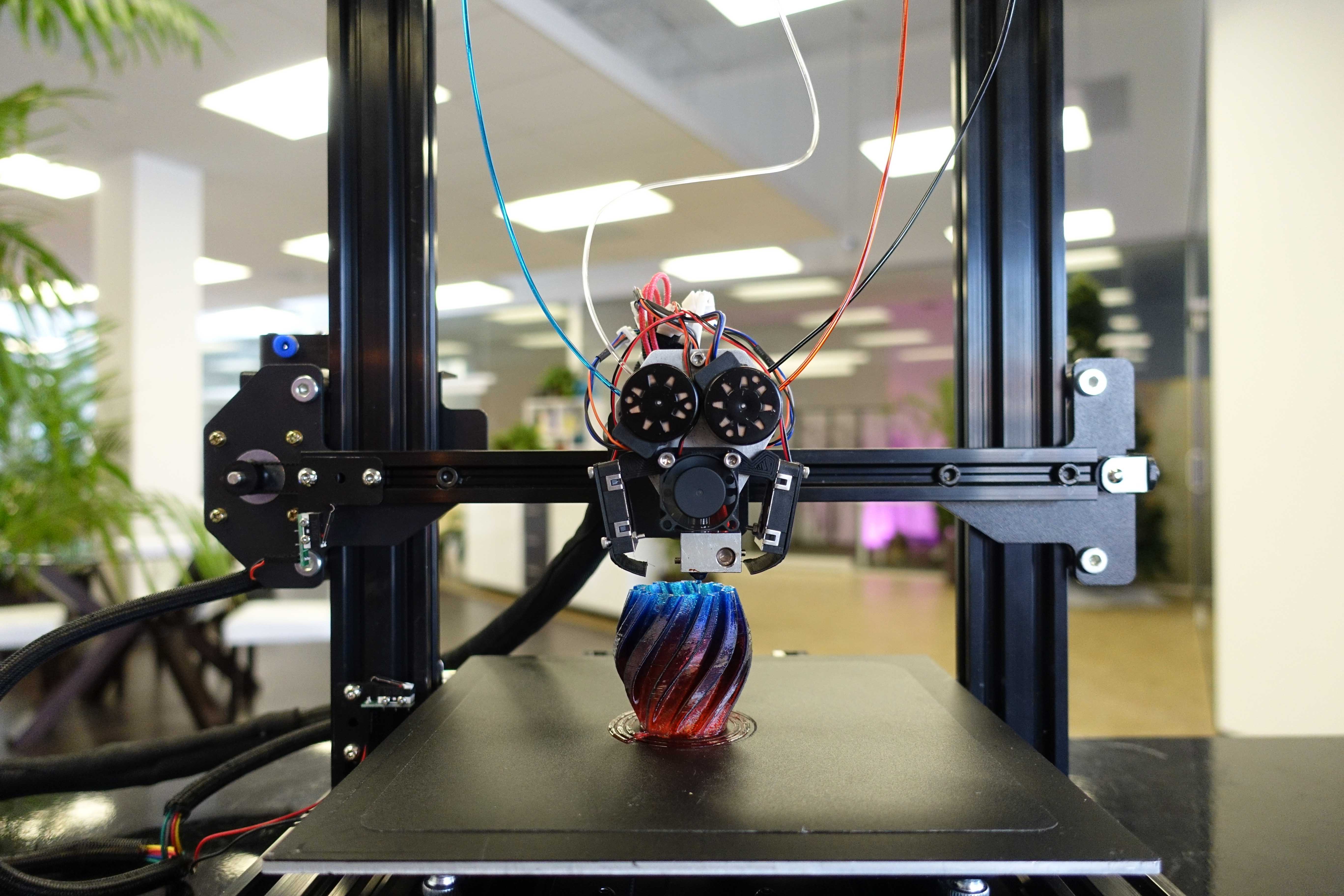 Experienced 3D printer users who are seeking the newest innovation with the greatest printing ability will find the Crane Quad to be the printer for them. No other printer available on the consumer market can offer the capability and potential of M3D's Crane with its four-in, one-out extruder. One of the more celebrated aspects of this printer is its ability to unlock over 50,000 colors across palettes of carefully calibrated CMYK (cyan, magenta, yellow and key - black, white, transparent) filaments.
At the heart of the Crane Quad lies the QuadFusion 3D print head, guided by a powerful Duet 2 Maestro control board. Together, they can control the stabilized mixing of the four different filament in order to achieve color mixing. How exactly? Just like how any color palette works, the Crane Quad can extrude percentages of each filament throughout the print. That means it can print 100% of one color or mix ratios among the four filament to achieve color creation or shared filament properties.
Further, the Crane Quad can allocate different materials between support, wall and infill. Say, for example, you have a complicated model with lots of supports needed and which is set to have thick walls. For convenience sake, the Crane Quad can print the supports in a dissolvable material and, for cost savings, print the infill with ABS-R filament. That alone is a reason why the Crane Quad provides so much value.
Here is the heart of the Crane Quad, the QuadFusion four-filament extruder: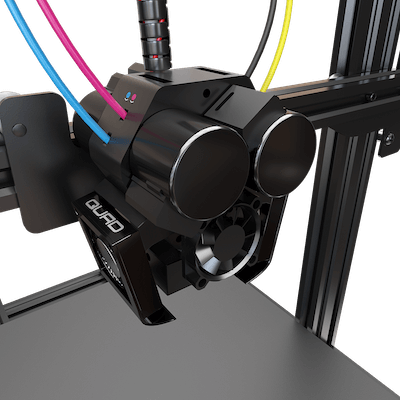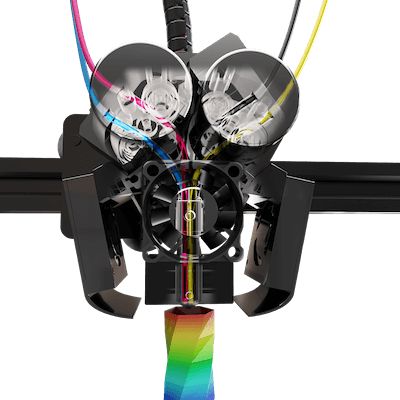 The following image reflects how filament can be fused to create a variety of colors. In this example, we mixed red, blue, black and clear ABS-R filament. Yes, a 15-color sampling from just four filaments.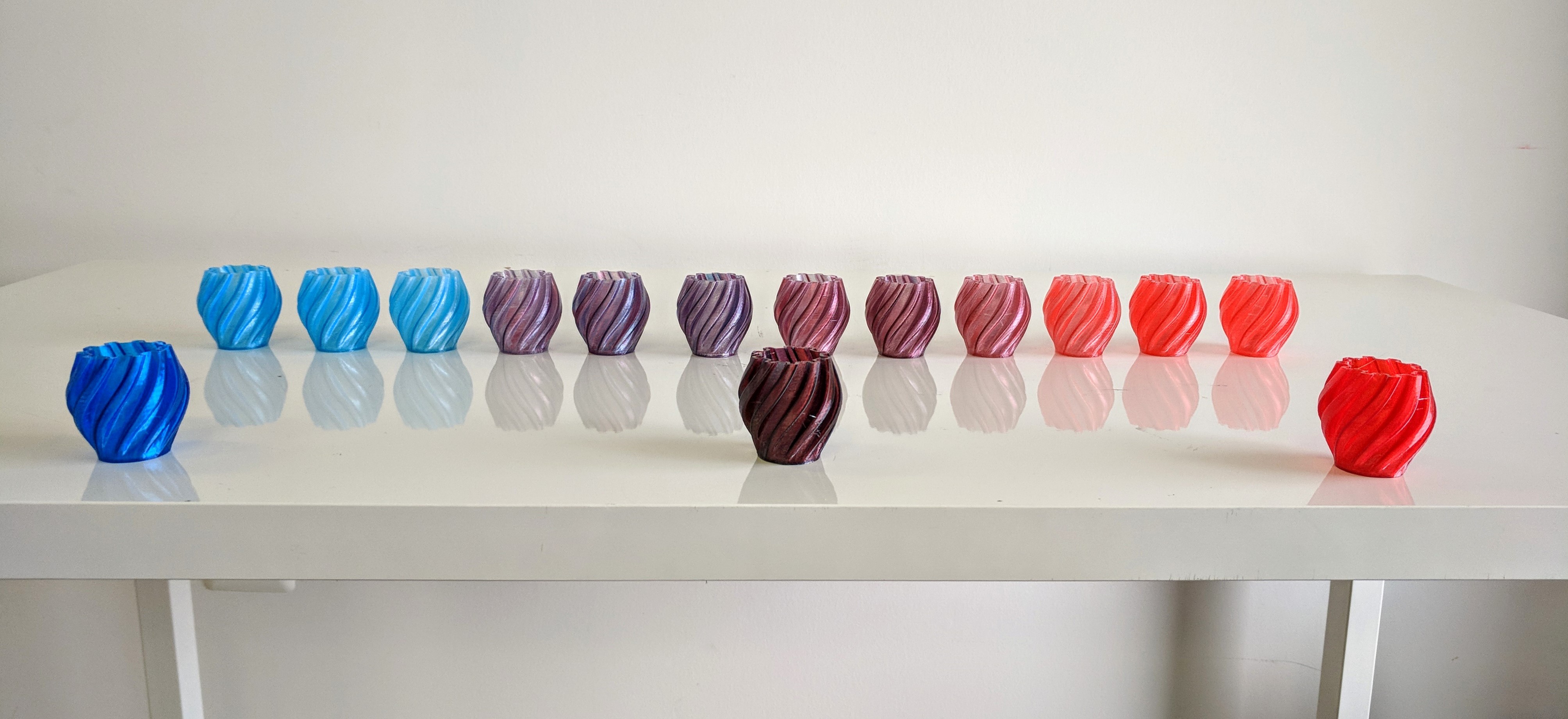 CRANE DUAL
THE CRANE DUAL COMES WITH ITS OWN IMPRESSIVE LIST OF CAPABILITIES, TOO!
Those who are starting to master their first single-extruding 3D printer will really enjoy the Crane Dual and the capabilities that come with dual-extruding 3D printer. Features, offered at a very competitive price point, makes Crane Dual the perfect 3D printer to advance your skills further.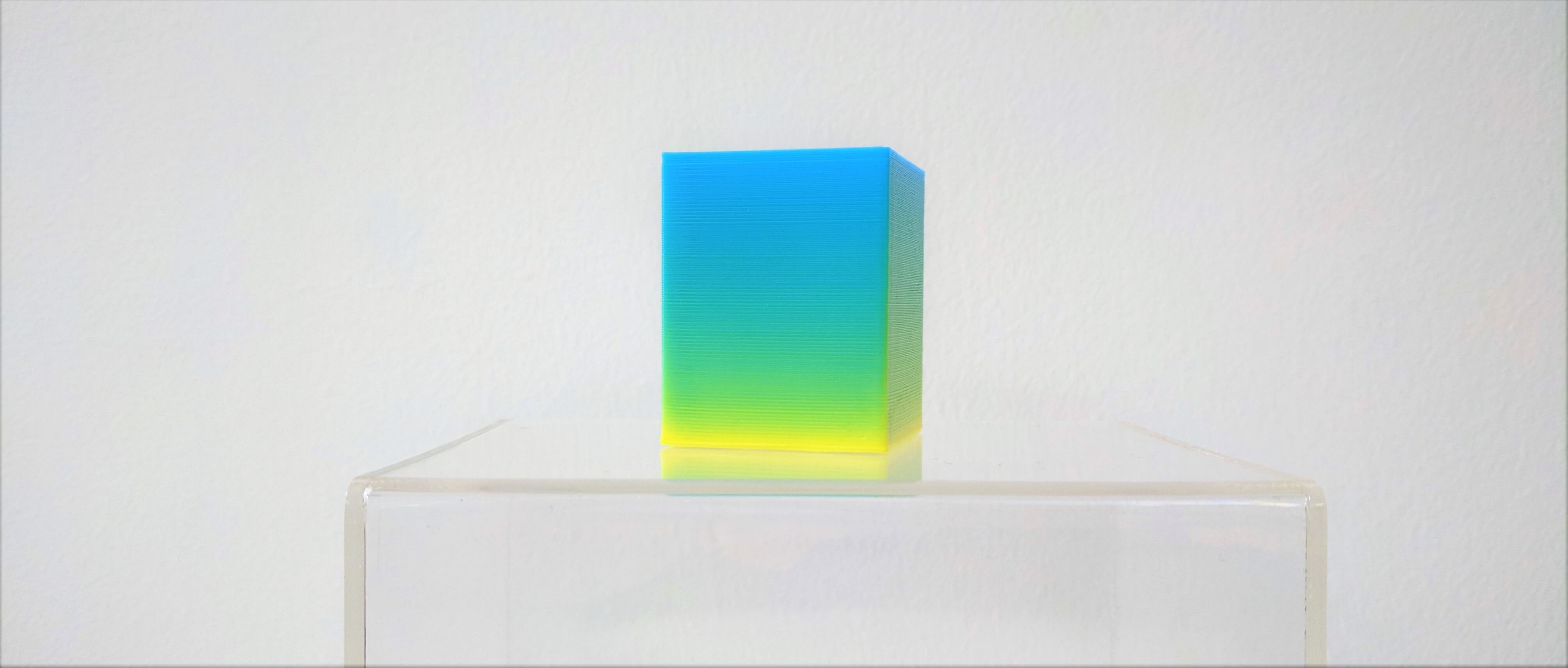 Those who value features will be happy with the Crane Dual. Featuring a dual extruder, this version of the Crane is direct drive, which means not only printing with two different material types or colors is possible, but you can also print with flexible materials. The Crane Dual is a huge savings of 75% as compared to other 3D printers with similar build size that start in the thousands of dollars. This was made possible through significant research and development of the motors, leveraging designs from our product line and using industry standards parts to bring costs down..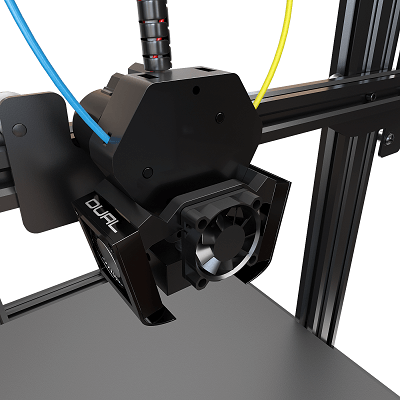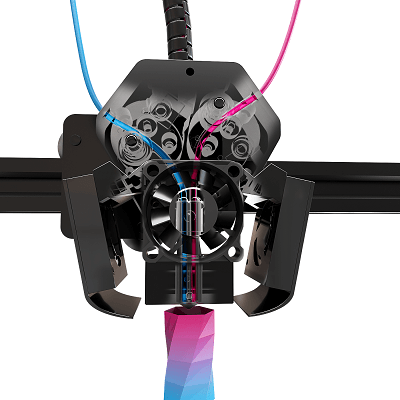 Those familiar with 3D printing know that a mixing dual extruder is a big deal as many other dual set ups are independent. And while that's a big step up from single extruding 3D printers, the mixing ability of the Crane means being able to merge filament properties. More seamless transitions between filament types means stronger prints and greater usability with the end product.
WHY IS A MIXING DUAL COMPOUND EXTRUDER A BIG DEAL?
Here is a sample of what the Crane Dual can do:
PRINT TWO COLOURS INDEPENDENTLY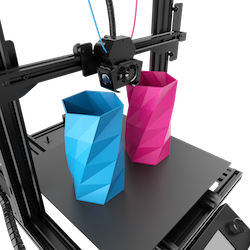 MIX FILAMENT COLOURS AND TYPES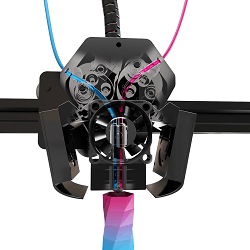 HAVE SEPARATE PRINT AND SUPPORT MATERIAL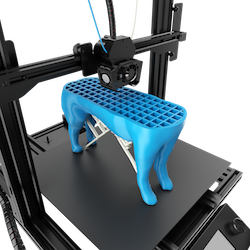 HAVE SEPARATE INFILL AND WALL MATERIAL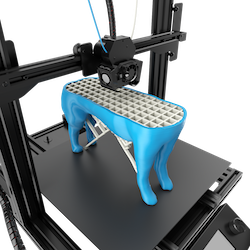 DO GRADIENT PRINTS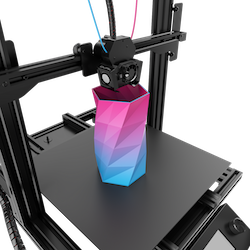 CRANE BOWDEN
LAST, AND CERTAINLY NOT LEAST, IS THE ROCK OF THE CRANE SERIES, THE CRANE BOWDEN
The Crane series of 3D printers was only made possible by having a strong base... and that's the Crane Bowden. It's a 3D printer that is easy to use, prints beautifully and is a reliable work horse.
For those just getting started with 3D printing and are looking for an approachable open source 3D printer, the Crane Bowden is for you. Coming fully assembled means you can use it right out of the box and without fear of faulty installation a couple hours of assembly that normally comes with these types of printers. As an open source printer, rest assured there is a huge community behind it, in addition to M3D's own passionate community, with lots of ideas, support and troubleshooting material to guide you through 3D printing.
Further, as part of the larger Crane series, Crane Bowden users can easily update their printers to a direct drive system for printing flexible filaments, in addition to the Dual and Quad multi-filament setups with readily available parts.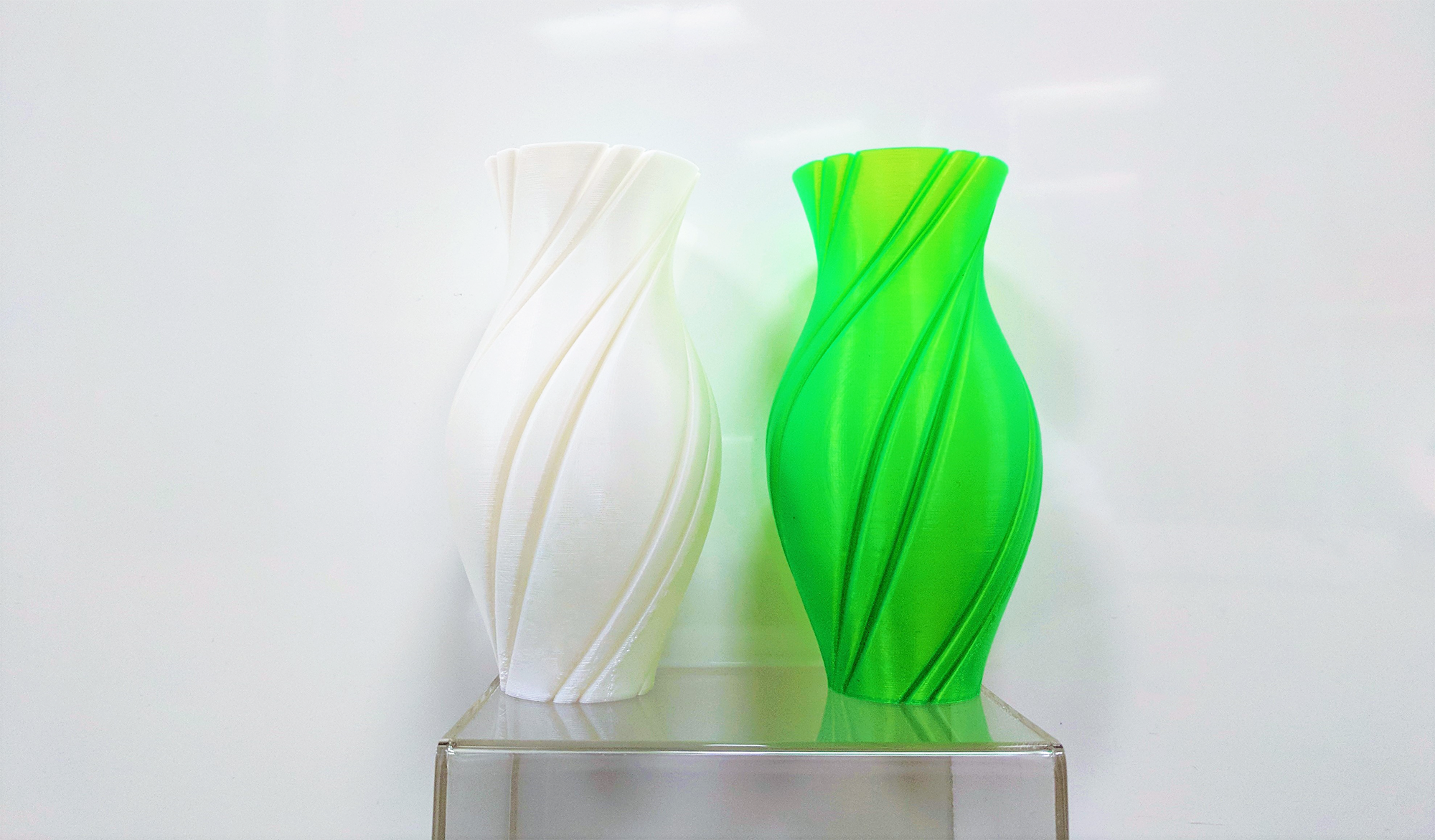 MANUFACTURING PLAN
The production philosophy for the Crane represents a new generational strategy for M3D as we've honed our value as an integrator, innovator, assembler, and quality control checkpoint in the USA. Our goal is to combine the value of highly affordable printers with the reliability and innovation typically seen at much higher prices so that users can do more with less and even operate fleet of printers that they can count on...
M3D is doing this by combining recent strategies used by low-cost manufacturers, expert innovators, and community contributors. Low cost manufacturers leverage proven designs and high-volumes to offer great value, but they can miss the mark on customer service and quality control, leaving buyers with a bit of a gamble. On the other hand, innovators invest in R&D which leads to innovations that enable users but are often proprietary and expensive, which usually restricts the users freedom. Finally, open-source and community contributors often develop products with real value, but manufacturers tend to take rather than nurture these independent innovators. By integrating all three we've realized a product that is standard in its approach and easy to modify, while also providing the most competitive foundation on which several innovative options can be added.
Simply put, many companies try to pair their innovations with excessive changes. We're taking the things that work well in our industry so that our innovations can shine. We're one of only a handful of companies to take on color 3D printing and the first to do so under $500.
ADD-ONS
To help customize your Crane to better fit your needs, below is a sample of add-ons we plan to make available during the check out process:
OUR NEW FILAMENTS
You can use any standard 1.75mm filament in the QuadFusion Print Head, however if the colors aren't optimized for color mixing, you may not get a high quality color result, for example if you want to use a key like Black, you need to use a calibrated black because typical black filaments are loaded with carbon pigments which have a very wide particle size and distribution, so what would normally happen is you're trying to change from black to yellow for example, and you're going to have to expunge 200mm of filament to get a clear switch between the two, which is a very large waste pillar, and even then you still may have residual specks of black show up in your print.
To solve this problem we developed a few lines of filament that would be ideal for color mixing. To do this we calibrated the pigment size and molecular distribution so that it falls within a narrow range, giving you the ability to get controlled mixing ratios, which results in a wider and more pure color palette. The recommended starting material is based primarily on PETG, which comes in two series: ABS-R3 provides opaque material ABSR provides transparent colors and keys. We also offer an opaque PLA line, as well as an opaque Tough 115A line.
NOTEWORTHY COLOR POINTS
We feel it's necessary to be as forthcoming as possible: multi-color printing is experimental. We have made progress in printing gradient and spot-color prints in recent weeks which is encouraging. We ask that all Crane Quad supporters recognize that this is the beginning of a larger color movement; one in which we plan to be an active coach and mentor. As always, we'll have daily conversations in Discord with those wishing to contribute to the color 3D printing movement and will be posting updates, files and all information to GitHub.
The following are examples of what we plan to tackle as an open source community together:
File formats being made specifically for color printing

Slicing such files

Calibrating various filament colors and types

Exploring different filament types and their mixing relationships

This is a journey, not a race. In making the Crane Quad available at an affordable price, it is our goal that more people will be able to join us as we create a whole new way for consumers to 3D print.
CAMPAIGN DETAILS
Product prices are dependent on when you want to receive the printer. Per our current timeline, Batch 1 shipments are planned to begin in August.

Like all 3D printers from M3D, the Crane is designed, assembled and supported in the United States.

Shipping fees will be calculated as shipping times approach and any add-ons are added to the order. VAT will need to be paid to the carrier at the time of delivery.

With every purchase, a portion of the sales will go back to Duet3D to support the development of Duet hardware and RepRapFirmware (RRF).

All Crane 3D printers come with a six-month warranty
THANK YOU FOR CHECKING OUT M3D'S CRANE SERIES OF 3D PRINTERS
It's been quite a ride since our company sold its first printer four years ago. Since then we've been able to innovate new 3D printing solutions and we're excited to expand our offering with these printers. We're a small, passionate team with big dreams and we're truly grateful for your support!