Advantages
Comprehensive anti-virus solution for PC
Real time protection
Best at curing active infections
Installs in an infected system without its preliminary curing
Fast multi-thread scanning
Unique technologies blocking even unknown threats
Full scan of archives at all nesting levels
Best detection and neutralization of complex viruses
Filters spam and other types of unsolicited messages without training the anti-spam
Reliable on-the-fly scan of inbound and outbound http-traffic
Efficient protection of children against exposure to objectionable content
Protects against unauthorized access by a network; prevents data leaks; blocks suspicious connections on package and application layers

New!

Remote administration from other computers in the local network without installing the Dr.Web Control Center.
Technologies
A good anti-virus application can detect viruses. Deleting an infected file that may contain important information is one thing, but restoring the file to its original "healthy" state is entirely another.
Cures Viruses
The Dr.Web anti-virus functions on infected computers; its exceptional resistance to viruses makes it stand out among anti-viruses.
Dr.Web has the highest success rate in the industry for curing active infections
There is no need to cure a system prior to installing Dr.Web; this is due to the product's unique technologies for scanning memory processes and its outstanding ability to neutralize active infections.
High probability to launch a scanning process in the infected system even from a remote data-storage device without installation (e.g. from a USB flash drive)
Self-Protection
Dr.Web is immune to any attempts by malicious programs to disrupt its operation. Dr.Web SelfPROtect is the unique anti-virus component that maintains the anti-virus' security.
Dr.Web SelfPROtect is implemented as a driver that operates on the lowest system level. The driver can't be stopped or unloaded without a system reboot.
Dr.Web SelfPROtect restricts access to a network, files and folders, certain branches of the Windows Registry and removable data-storage devices on the system driver level and protects the software from viruses aiming to disrupt the operation of Dr.Web.
Some anti-viruses modify the Windows kernel through intercepting interrupts, changing vector tables or using other undocumented features. This may have a negative impact on the stability of a system and pave new ways for malicious programs to get into a system. At the same time, Dr.Web SelfPROtect maintains security of the anti-virus and doesn't interfere with routines of the Windows kernel.

New!

Automatic restoring of anti-virus modules
Unique Engine Features
Scan of archived files at any nesting level.
Reliably detects packed objects regardless of whether or not Dr.Web recognizes the compression format and their detailed analysis aimed at exposing hidden threats.
Leader in detecting and neutralizing complex rootkits.
Intelligent memory scan technologies allow viruses to be blocked in the RAM before replicating themselves to the hard drive, making it less likely for malware to exploit the vulnerability of a third-party application or the operating system.
Dr.Web can detect and neutralize viruses that can be found only in RAM and do not exist as files on disks, e.g. Slammer or CodeRed.
Detection Of Unknown Threats
FLY-CODE is a unique universal decompression technology enabling Dr.Web to unpack data that has been compressed with unknown packers.
The cutting-edge, non-signature scan technology Origins Tracing™ ensures the high probability that viruses unknown to Dr.Web will be detected.
The heuristic analyzer, whose analyses are based on criteria typical of various groups of malicious programs, detects most known threats.
Protection Components
Basic license protection components
Detection Of All Types Of Threats (Dr.Web Scanner)
New!

Numerous architecture changes boost the multi-thread scanning capabilities and allow to take the full advantage of multi-processor systems. With full use of multi-core capabilities Dr.Web scanner 7.0 boasts vastly increased performance. In a multiprocessor system the scanning speed is much higher compared with the previous version of Dr.Web.

New!

New scanner interface.
Quick and thorough scanning of RAM, boot sectors, hard drives and removable data-storage devices.
Neutralizes viruses, Trojan horses and other malware.
Comprehensive databases for spyware, riskware, adware, hack tools and jokers.
The console scanner intended for experienced users enables them to run the anti-virus from the command line. It offers users a wide range of options and also utilizes the multi-core features.
Real-Time Protection (SpIDer Guard® File Monitor)
Reliable system protection from viruses featuring rootkit-technologies that allow viruses to hide their presence in a compromised system.
Neutralization of complex rootkits.
Virus-Free e-mail (SpIDer Mail®)…
On-the-fly virus scanning of e-mails over SMTP/POP3/NNTP/IMAP4

New!

Scan encrypted SSL-connections (SMTPS/POP3S/IMAP4S).
Scanning does not interrupt operation of mail clients and doesn't cause a receipt delay.
Individual processing rules for different types of malicious objects — viruses, riskware, adware, hack tools, paid dialers, and jokers
An analysis of message contents and sending time allows the characteristics of malicious activities to be detected and prevents mail worms from carrying out mass mailings.
…Spam-Free e-mail (Dr.Web Anti-spam)
Real-time filtering of incoming and outgoing e-mail.
The anti-spam doesn't depend on a mail client and doesn't cause receipt delays.
The anti-spam doesn't require configuration and starts working as soon as the first message is received.
Different filtering technologies ensure the high probability of detecting spam, phishing, pharming, scamming and bounce-messages.
Anti-botnet – you won't be disconnected from the Internet because your computer sends out spam.
Messages that have been filtered out are never deleted. Instead they are placed in a separate folder where you can always verify that no false detection has occurred.
The standalone anti-spam analyzer module doesn't require connection to an external server or access to a database, saving on traffic.
E-mail Protection For Microsoft ® Outlook
The Dr.Web plug-in for Outlook scans files attached to e-mail messages for viruses, checks the mail arriving via an encrypted SSL connection, filters out spam, detects and neutralizes malicious software and employs the Dr.Web heuristic analyzer for extra protection against unknown viruses.
Dr.Web LinkChecker — scan for viruses and avoid bogus web-sites without installing Dr.Web
Anti-virus plugins to scan web-pages and files downloaded from the Internet and to check links in e-mails processed by Mozilla Thunderbird without installing Dr.Web.
Plug-ins allow you to check web pages before opening them, warn you upon opening external links on Facebook and Google + and check these links, recognize and check short URLs, scans files to download from the Internet for viruses, checks links to scripts and frames.
Shield From Internet Threats (SpIDer Gate™ HTTP monitor)
The SpIDer Gate™ module scans incoming and outgoing HTTP traffic in real time, intercepts all HTTP connections, performs data filtering, blocks infected web-pages in any browser, scans files in archives and protects users from phishing sites and other dangerous web-resources.

New!

Scan encrypted SSL-connections (HTTPS).

New!

Block access to sites according to the virus databases and warn the user about untrustworthy sites.
You can disable checking outgoing or incoming traffic, as well as compile a list of applications whose HTTP-traffic will be scanned in any case (blacklist). You can also define applications whose traffic will not be scanned (whitelist).
Adjust traffic scanning priority which will affect the utilized amount of CPU resources and web-surfing speed.
SpIDer Gate operates independently from web browsers.
Filtering doesn't affect the overall system performance, surfing speed or traffic.
No configuration is required in the default mode; Dr.Web SpIDer Gate starts scanning right after installation.
Web-Surfing Control (Dr.Web Parental Control)
Protection of children from exposure to objectionable content.
Block of access to web-sites from the list divided into 10 subject groups (Adult content, violence, weapons, drugs, gambling, etc.).
Block of access to removable data storage devices, files, folders or network drives – an additional measure to protect data from deletion or unauthorized access.
Protection From Network Attacks (Dr.Web Firewall)
Protects against unauthorized access by a network; prevents data leaks; blocks suspicious connections on package and application layers.
The application layer connection control manages the ability of applications and processes to access network resources and registers access attempts in the applications log.
The packet layer filtering allows controlling connection to the Internet regardless of an application that uses it. The packet filter log stores information about packets sent over network interfaces.

New!

In the Game mode a rule dialogue window will appear on top of any application running in the full screen mode.

New!

Real time monitoring of applications' networking activities and forced disconnection of the application from the network if necessary.
New!

Remote administration
The Anti-virus network component enables remote administration and configuration of Dr.Web software installed on computers in the local network.
It doesn't require the Dr.Web Control Center.
You can establish a remote connection from any computer to any other computer.
The administration includes retrieval of statistics and logs from a remote machine, viewing and changing modules settings and starting and stopping anti-virus components. You can also register a serial number and replace a key file on a remote computer.
To use this feature, a remote connection must be allowed on a target machine.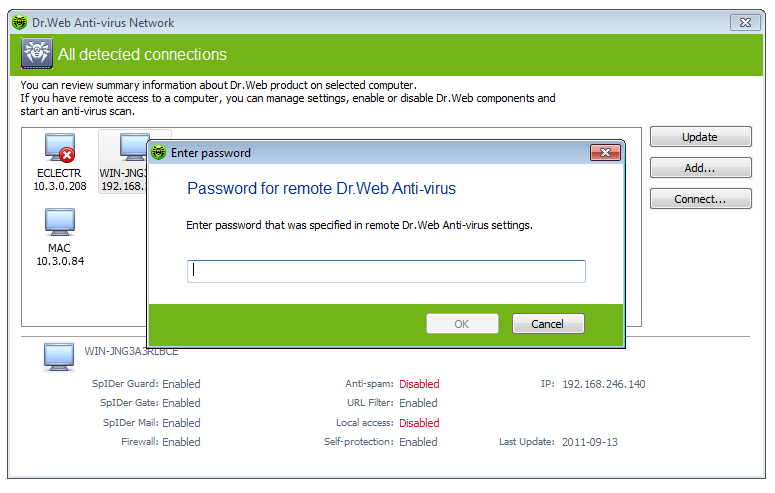 Auxiliary components
SpIDer Agent Control Module
With SpIDer Agent you can launch and configure all Dr.Web components.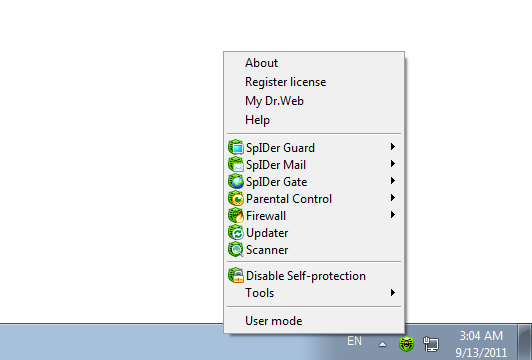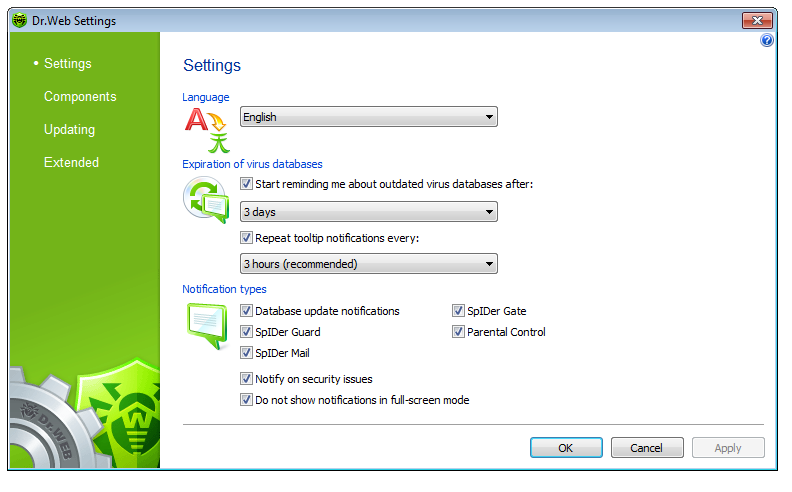 Quarantine
Isolating suspicious files, that may contain malicious objects in the quarantine.
A separate folder is created on each logical disk on which suspicious objects have been detected including removable writable data storage devices.
Isolated objects can be sent to Doctor Web's virus laboratory for analysis.
You can limit the quarantine folder size.
A back-up is created automatically whenever an infected file is quarantined, cured or deleted. Even if files are stored in the quarantine indefinitely, their backups are stored temporarily (while there is free disk space).
License Manager
The License Manager displays information about available Dr.Web key files.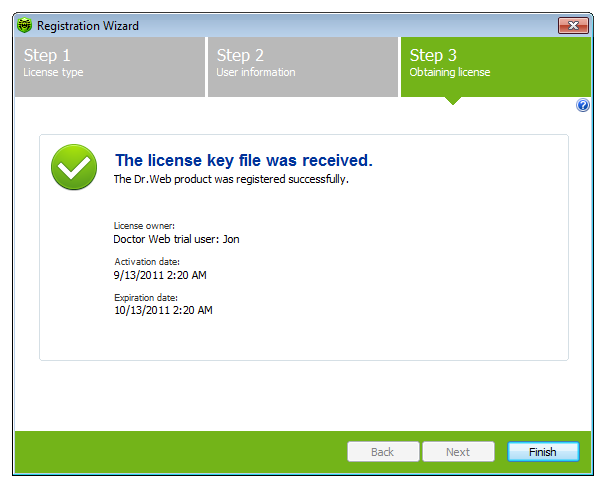 Updates
Always up-to-date
Updating over the Internet, whether automatically or according to a schedule, doesn't require user interference. Updating can also be launched manually.
Updating is very quick even if a slow Internet connection is used.
Updating servers are always available.
Updates can be retrieved from an HTTP server.
In most cases, there is no need to reboot the system to complete updating; Dr.Web starts using the updated modules and latest virus definitions right away
Updates are small (50-200KB).
To save traffic the anti-virus can be set to update virus databases only However, enabling this option is not recommended. To counter the latest threats, Dr.Web undergoes constant refinement. New features are incorporated in updated modules of an anti-virus package and are downloaded from Doctor Web's server automatically during regular updating sessions.
You can also reduce traffic by downloading updates as archived files A special data-compression algorithm used by Doctor Web allows reducing size of downloaded updates. Patch files are used to deliver minor additions and fixes for virus database or program modules. The special compression algorithm applied to such patches dramatically reduces the amount of transferred data.
Virus monitoring service
The Doctor Web virus monitoring service collects samples of malicious programs all over the Internet to create antidotes and release updates as soon as analyses are completed — as often as several times per hour.
As soon as an update is released, users can retrieve it from several servers located at various points of the globe.
To avoid false positives an update is tested over a huge number of uninfected files before it is released.
The intelligent system automatically adds entries for similar viruses into the database, ensuring the prompt neutralization of emerging threats.
System requirements
For Dr.Web Security Space
Windows 7/Vista/XP SP2/2000 SP4 + Rollup 1 (32&64 bit systems).
Minimum RAM: 512MB
Free disk space: ~ 450 MB. Temporary Files created during installation will require additional disk space.
Additional 11MB are required to install the firewall.
Additional requirements: Internet connection for registration and updating.